Introduction
It is the Resort MICE venue focused on international exchange in the 21st century.Beautiful nature is the stage to connect different cultures together.
"Bankoku Shinryo" meaning "Bridge between Nations," is named after a phrase carved on the large bell at Shuri Castle. Since the 14th century, the Ryukyu Kingdom strived to promote cultural exchange through trade with China and Southeast Asia. Bankoku Shinryokan stands on the scenic Busena Point overlooking the East China Sea. It was established as the main Convention Center for the 2000 Kyushu-Okinawa G-8 Summit and has hosted many MICE.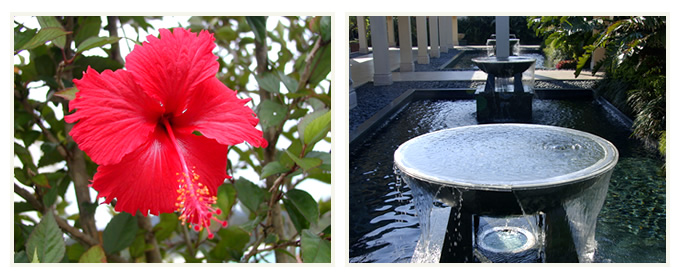 The interior has been expertly crafted using the best of both international and local materials.
Materials unique to Okinawa have been used in the creation of Bankoku Shinryokan. The Ryukyu red roof tiles provide a vibrant contrast against the blue sky. Ryukyu limestone provides the accent of the building. Paper crafted from the leaves of the Getto tree is used to make the beautiful chandeliers. The shelves displaying the G-8 Summit leader's autographs are made from trees indigenous to Okinawa.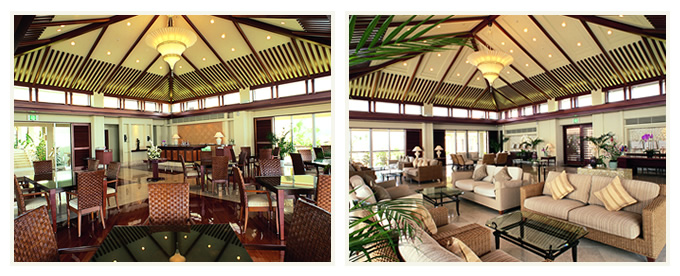 We will support your MICE with the most modern facilities and warmest hospitality.
Bankoku Shinryokan has the hi-tech facilities to support any convention or event. We have simultaneous interpretation booths, security systems, and a high-speed internet environment. The banquet facility provides a first-class atmosphere to suit any successful convention. Our expert staff can assist you and your guests to make your MICE a truly memorable occasion.